Construction Stages of Kish Twin Towers
The construction of towers started with excavation of 37000 cubic meters of soil till the depth of 5.50M. beneath the towers, and 4M beneath the parking. Then according to the geotechnical engineers, 628 columns were pushed down to the depth of 22 to 32 meters, augmented with 1360 tons of armatures with 460 Newton on Sq. Millimeters, and 10500 cubic meters of concrete, with 500 KG resistance on Sq. centimeters, in the framework of a cubic by experienced contractors. These columns strengthen the fortification and resistance of the concrete structure against earthquake.
Column heads were covered upto 2 meters beneath the towers and 50 centimeters beneath the parking with 1350 tons of armatures and 1160 tons of concrete. Project skeleton was designed pressurized concrete suitable for the Kish Island Climate, and controlled by the consultants and observers. One the particularities of Kish Twin towers is that procedure of concrete were controlled jointly between Kish University and Anbouhsazan Homa-e Tehran Construction Company.
In addition that these two unique jewels are built on the silver coast and to the edge of the blue waters of Persian Gulf, designing green area of the project has bring about a very pleasant and soothing environment. As mentioned earlier, Kish Twin Towers are built on a plot of land of 15000Sq. M., out of which 12000Sq.M. are allocated for green area, with a matchless and attractive surrounding design.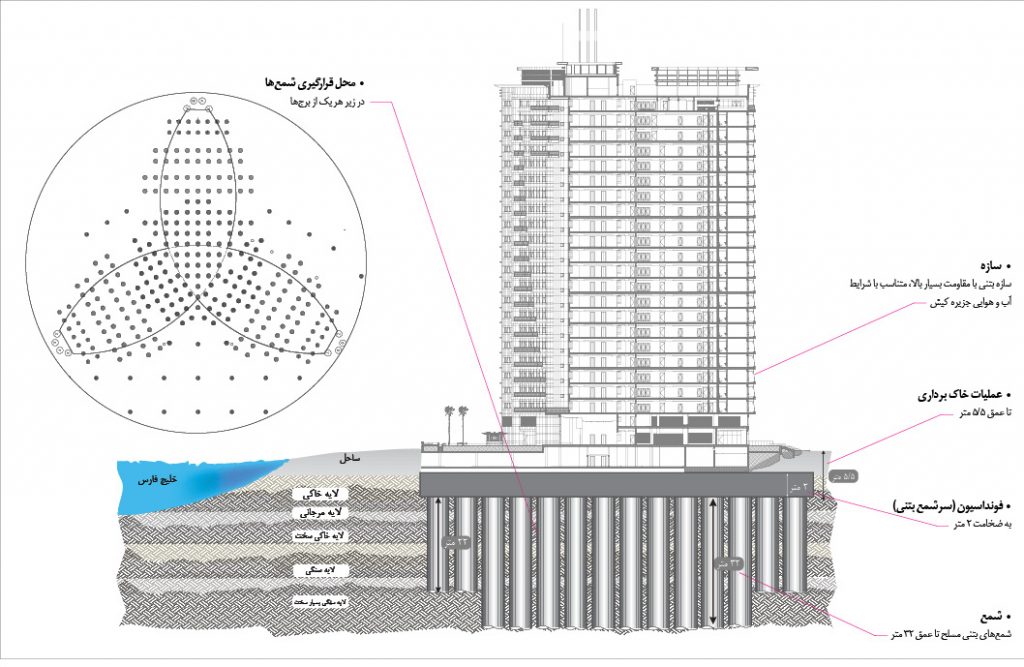 QNC has designed the Towers and has selected aluminum-glass composite for façade that would be performed by Alghoray Company that is executing the Dubai World Highest Tower. Another feature of Kish Twin Towers are 2 open pools built on 18TH floor, with a very spectacular view onto the blue waters of Persian Gulf, fully equipped with all necessary reception arrangements and services.
Every Tower has 3 wings setting 4 modern and highly charming apartments on each floor from 60 to 220 Sq.M. cooling area, consequently with 1, 2, and 3 bedrooms, and a penthouse with 440 Sq.M. area opens above wide enlivening open sea.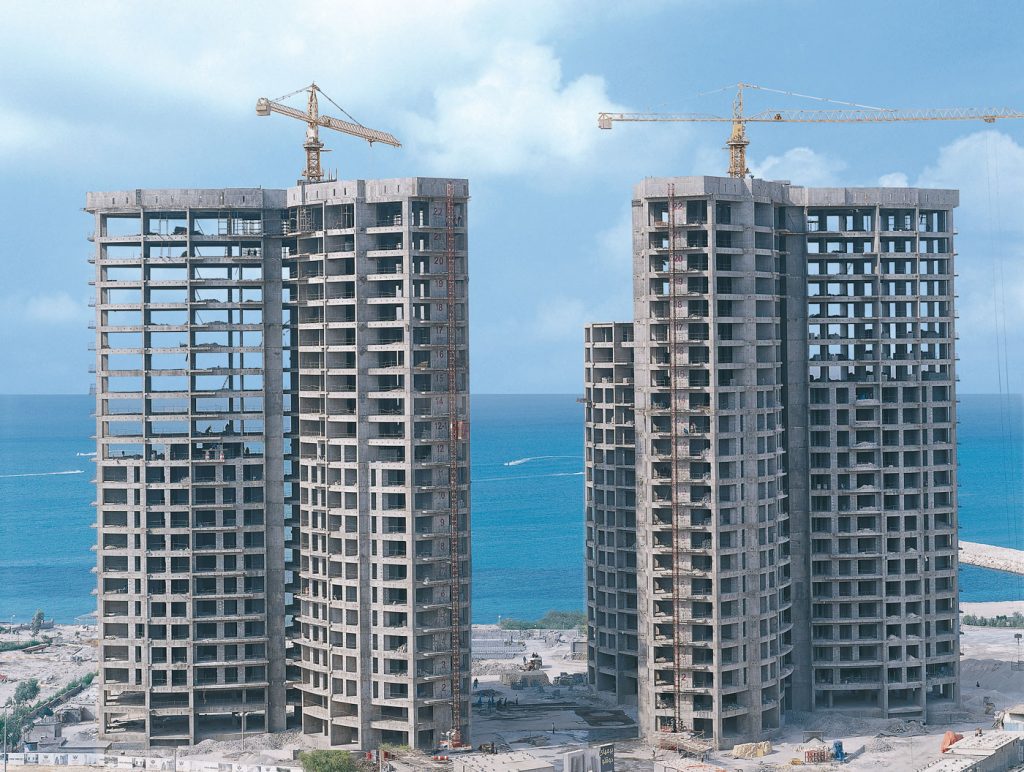 مراحل طراحی و تست نما
طراحی و محاسبات نمای برج های دوقلوی کیش، توسط شرکت دانمارکی و با نظارت کادر مجرب از مهندسان اروپایی و آمریکایی انجام گرفته است.
آزمایش های مقاومت بالا در شرایط محیطی و جوی، مقاومت بالا در برابر نیروهای ناشی از زلزله، تست مقاومت در برابر نیروهای ناشی از باد براساس حداکثر سرعت باد ثبت شده در جزیره ی کیش و تست مقاومت در برابر میزان رطوبت و فشار آب جزیره، از جمله آزمایش های مخصوص انجام شده توسط آزمایشگاه انگلیسی در امارات می باشند.